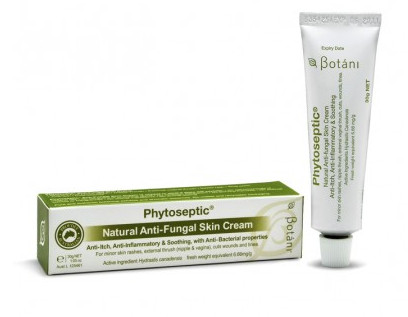 Description
You may not be aware that most anti-fungal creams are inhibitory only (temporarily stop fungi from growing); that's why your Tinea keeps coming back! You can now breathe a sigh of relief and put an end to the cycle of reinfection and kill fungi once and for all.
Botáni's Phytoseptic is truly a remarkable natural formulation proven to be effective in the treatment of common fungal and candida infections. Approved by the Therapeutic Goods Administration (T.G.A), Phytoseptic kills fungal infections, such as Tinea and Candida, at a 99.9% kill rate along with the secondary infections that often follow!
This multi-purpose cream also features anti-septic and anti-inflammatory properties, is pregnancy safe and a must have item for the family First Aid Kit.
Benefits:
Proven 99.99% kill factor on Tinea, Candida and Golden Staph in just 30 minutes
T.G.A listed with proven efficacy
Fast acting, anti-itch and calming
Safe family product
Pregnancy safe
Triple action: anti-fungal, anti-septic and anti-inflammatory
Effective in relieving symptoms of:
Tinea/Athlete's foot
External vaginal thrush
Nappy rash and jock itch
Ringworm
Ingrown hairs
Cuts and wounds
Mosquito and sandfly bites
Chicken pox
Ingredients:
All ingredients are approved by the TGA.
Active Ingredient: Hydrastis Canadensis (Golden Seal) Extract
Potassium Sorbate 3mg/g, Benzyl Alcohol 15mg/g.