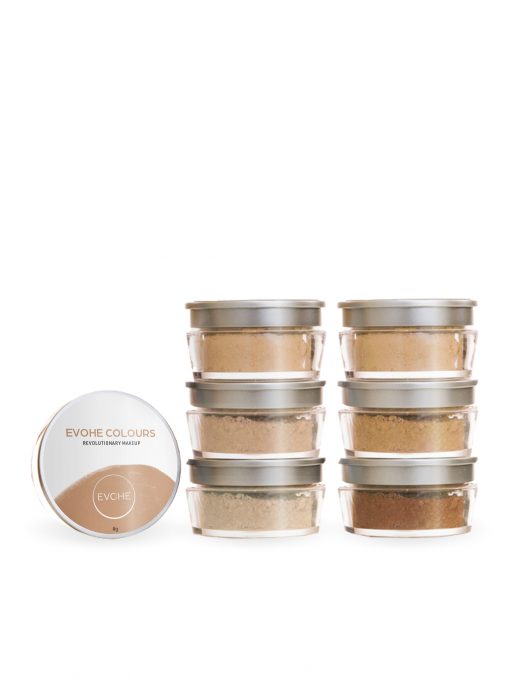 Description
EVOHE Colours gives natural glowing coverage, protection & hydration. No NANO SPF 24
All Mineral Powders are the same right?….WRONG!
Not all mineral powders are made equal! Even powders that call themselves 'natural' and 'mineral' still have ingredients that can irritate and congest your skin. Avoid nano, talc, filters, bismuth, preservatives and binders – these are the ingredients that you DON'T want on your skin.
If you're going to go natural, why not make sure you're going TRULY natural with EVOHE? Your skin will thank you for it!
– 100% Pure Minerals
– No filters, bismuth or binders
– Vegan, Natural & Cruelty Free
– 100% Palm Oil Free
– Suitable for all skin types – even sensitive and acne prone
COLOUR RANGE
FAIR Best suited for light complexions
IN-BETWEEN Suits complexions in-between fair & medium
MEDIUM Suits most skin tones, giving a warm & healthy glow
Mix some of your favourite skincare base with a colour for an easy to apply make up foundation. Suggestions of which product to use:
Omega 3.6.9 For a natural dewy/glowing finish. Great for those with aging skin or dry skin.
Moisture Lite For a matte finish.
Repair Intensive For a matte finish for sensitive/acne prone skin.
Ingredients:
*Indicates Certified Organic Ingredients:
*Mica, Titanium Dioxide, Zinc Oxide, Kaolin (Organic Clay), +/- Iron Oxides, Ultramarine Blue, Tin Oxide