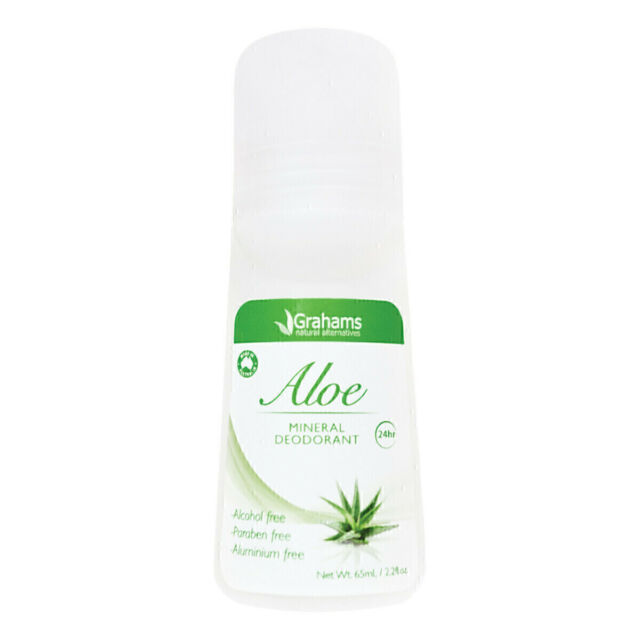 Description
Long lasting, leaves no white residue and contains Aloe extract to help soothe and moisturise.
Especially formulated for those with sensitive skin.
Grahams Aloe Mineral Deodorant is Aluminium, Alcohol and Paraben free.
How it works:
Potassium Alum - is a naturally occurring mineral. Potassium alum is a natural deodorant ingredient that provides very effective odor protection, and best of all, it is an equally effective alternative to synthetic active ingredients. Potassium alum deodorant can provide benefits that are unmatched by leading traditional deodorants. Potassium alum will provide odor protection by inhibiting the growth of odor-causing bacteria. Additionally, it is hypoallergenic, and does not include fearful ingredients like Parabens or aluminum chlorohydrate. Also, an added benefit of potassium alum deodorant is that when it is applied to the skin it is totally invisible and leaves no white streaks or oily residue.
Aloe Vera - is used to reduce perspiration and body scent. It is used as a natural product for healing and soothing. Aloe Vera is an all-day protection against underarm odour, and can be applied directly after showering or waxing without stinging.
Xanthan Gum - is a thickening agent used in many foods, medications and cosmetic products. Produced by fermenting simple sugar with bacteria, xanthan gum has strong binding properties, which makes it an effective choice as an emulsifying agent. It also is naturally gluten-free.
Ingredients:
Purified Water, Potassium Alum, Xanthan Gum, Aloe Barbadensis Leaf Extract