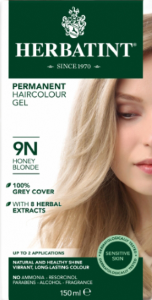 Description
A herbal based permanent hair colour with aloe vera, no paraben, NO AMMONIA and only 3% peroxide. Herbatint grows out and hair re-growth will need re-colouring in approximately four weeks. Herbatint has fewer chemicals in than other permanent hair colours on the market and unlike products which contain ammonia it has no smell once mixed. The absence of ammonia results in little or no penetration of the epidermis and is less likely for people to have allergic reactions.
Herbatint is able to cover white or grey hair gently and without causing damage to your hair, which enables the chosen colour to last much longer.
The natural series colours from 1N to 8N give 100% coverage of grey hair. In order to achieve total grey hair coverage with the Ash, Golden, Copper and Mahogany series of colours, it is suggested you mix the chosen colour (40ml) with a natural (N) series of the same number (20ml). For example: Your hair is chestnut and your selected colour is Copper Chestnut. Mix 40ml of Herbatint 4R (Copper Chestnut) with 20ml of Herbatint 4N (Chestnut).
Herbatint uses gluten-free and Nickel tested ingredients. Suitable for vegans.
Herbatint colouring gel is easy to mix and apply thanks to its gel consistency and its odourless formula. A perfect colour result in only 40 minutes!
Herbatint's gentle formula with a low hydrogen peroxide concentration (10 volumes) allows you to lighten your natural colour up by a maximum of 2 tones. Only colouring with higher hydrogen peroxide concentrations (30-40 volumes) have a higher bleaching power which inevitably affects the hair's structure and health.
The haircolour package includes:
1 bottle Herbatint haircolour gel 60ml
1 bottle Developer 60ml
1 sample of Normalising shampoo 15ml
1 sample of Royal Cream conditioner 15ml
1 leaflet containing directions and gloves
Ingredients:
Haircolour gel:
Laureth-4, Propylene Glycol, Aqua, Peg 2 Oleamine, Ethanolamine, oliec acid, Aloe Barbadensis Extract, Hamamelis virginiana extract, Betula Alba leaf extract White Birch Extract, Echinacea Angustifolia extract, juglans regia (walnut) shell extract, rheum palmatum (rhubarb) root extract, cinchona calisaya (cinchona) bark extract, PEG-75, Meadowfoam Seed oil, limanthes alba (meadowfoam) seed oil, p-aminophenol, Tetrasodium EDTA, p-phenylenediamine,p-methylaminophenol sulfate, 2-methlresorcinol, 4-chlororesorcinol, Cetrimonium Chloride, simethicone, Sodium metabisulfite, glycerin
Developer:
Aqua (water), hydrogen peroxide, eitdronic acid, trideceth-9, cetrimonium choride, simethicone, propylene glycol, PEG-40 hydrogenated castor oil