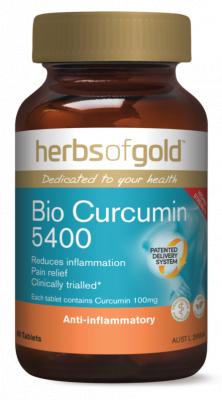 Description
Curcumin is the active component of Turmeric. Turmeric has a long history of use in Ayurvedic medicine as an anti-inflammatory and anti-arthritic. These actions have been supported by studies that show anti-inflammatory and anti-arthritic activity of curcumin.
Curcumin is known to be very poorly absorbed. Bio Curcumin 5400 has undergone a patented process to improve absorption and bioavailability. Bio Curcumin 5400 contains Meriva®, a patented form of curcumin that delivers superior curcumin absorption and bioavailability.
Curcumin from Bio Curcumin 5400 is beneficial for the relief of symptoms of arthritis at much lower doses than regular curcumin.
Bio Curcumin 5400 has been clinically trialled to increase joint mobility and reduce joint swelling, pain and inflammation associated with arthritis.
Bio Curcumin 5400 provides temporary relief of the pain of arthritis and osteoarthritis.
Bio Curcumin 5400 may assist in the management and symptomatic relief of osteoarthritis.
If symptoms persist consult your healthcare practitioner.
Ingredients:
Each tablet contains:
Curcumin

100mg

(from Meriva® Curcumin phospholipid complex 500mg)

containing Curcuma longa (turmeric) rhizome extract 100mg derived from fresh rhizome minimum 16.5g
Does not contain added egg, milk, peanut, corn, tree nut or animal products, yeast, gluten, lactose, artificial colourings, flavourings or preservatives.