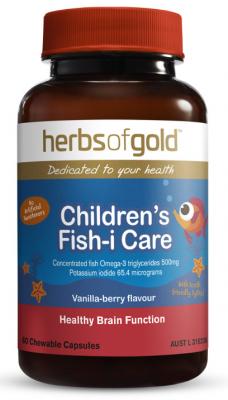 Description
Children 2-4 years – Twist or snip off the tail from the capsule, then squeeze the fish oil straight into your child's mouth or onto your child's favourite food. Take 1 capsule daily. Children 5-8 years – Chew 1 capsule daily.
Children 9-13 years – Chew 2 capsules daily. Or take as directed by your healthcare practitioner.
Indications:
Herbs of Gold Children's Fish-i Care provides supplemental omega-3 fatty acids, beneficial for a diet low in fish.
Provides eicosapentaenoic acid (EPA) and docosahexaenoic acid (DHA), from fish oil.
Omega-3 fatty acids are required for healthy brain function.
DHA is an important structural component of the brain and helps maintain healthy eye function.
Supplemental iodine intake may be beneficial to children's IQ levels.
Iodine helps maintain healthy brain and cognitive function.
Contains tooth friendly Xylitol.
Herbs of Gold Children's Fish-i Care is beneficial for the prevention and treatment of an omega-3 fatty acid or iodine deficiency.
Ingredients:
Each chewable capsule contains:
Fish oil – natural

500mg

equiv. Eicosapentaenoic acid (EPA) 50mg

equiv. Docosahexaenoic acid (DHA) 250mg

Iodine (as Potassium iodide)

50mcg

Does not contain added egg, milk, peanut or tree nut products, yeast, gluten, lactose, artificial colourings, flavourings or sweeteners.