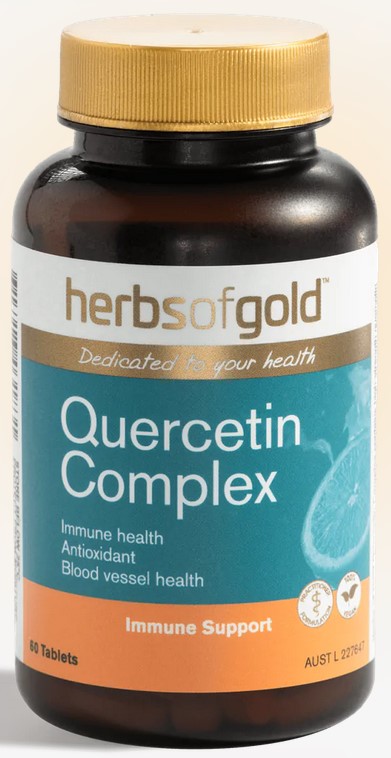 Description
THIS PRODUCT HAS BEEN DELETED BY THE MANUFACTURER.
ALTERNATIVE PRODUCT SUGGESTION: HERBS OF GOLD HAYFEVER AND SINUS EASE
http://www.vivehealth.com.au/Herbs-of-Gold-Hayfever-and-Sinus-Ease-60-Tabs.html
Quercetin

has natural anti-histamine properties.

Quercetin

provides symptomatic relief of upper respiratory tract allergies.
Bioflavonoids help to increase the absorption and utilisation of vitamin C.
Bioflavonoids refer to a group of (antioxidant) compounds and includes

quercetin

, rutin and hesperidin.
Vitamin C and flavonoids such as

quercetin

rutin and hesperidin are potent antioxidants.
Helps maintain capillary strength and health.

Quercetin

has anti-inflammatory and/or anti-histamine activity for the relief of allergic symptoms such as runny nose, sneezing and itchy, watery eyes.
Ingredients:
Each vegetable capsule contains:
Quercetin

500mg
Rutin
100mg
Citrus bioflavonoids extract
50mg
Hesperidin
25mg
Ascorbic acid (vitamin C)
50mg

Does not contain added egg, milk, peanut, corn, soy, tree nut or animal products, yeast, gluten, lactose, artificial colourings, flavourings or preservatives.