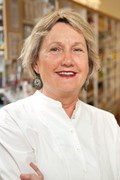 Bachelor of Naturopathy
Dip. Herbal Med.
Professional Interests:
Herbal Medicine
Gluten free food
Stress Management
Health and Wellbeing
For the last 25 years Health Foods and Herbal Medicine have been two of Marilyn's favourite interests. Marilyn's interest in health foods began in Canada and then after immigrating to Australia she completed a Bachelor of Naturopathy.

Marilyn has been owner and part owner of health food stores for the last 15 years and now spends the majority of her time working in the store and behind the scenes to help ensure the smooth flow of the administration of the store.

The prevention of poor health through great nutrition and necessary supplements is one of Marilyn's main interests. Helping individuals cope with stress and prescribing herbs that are effective in supporting a person through stressful times is another area that inspires Marilyn.

Marilyn is the mother of a young adult who has been gluten intolerant for the past 4 years so along the way she has learnt how to pack those school lunches and how to feed teenage groups gluten free food that tastes superb.

For Marilyn it is a very rewarding profession and also rewarding to be part of a team that is qualified to help each individual that comes into the store with each of their health needs.