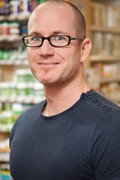 BHSc Complementary Med
Adv. Dip. Naturopathy
Adv. Dip. Nutrition
Dip. Herbal Medicine

Professional Interests:
Energy and nutrition for exercise
Nutritional components of anti-aging medicine; Auto-immune
Matt's health career began in the fitness industry back in the mid 90s where he worked as a fitness instructor both in Australia and England. It was while working with clients in England that Matt recognised a considerable variance in performance, achievement and the recovery of individuals. With a desire to help these people achieve, Matt developed a greater interest in nutrition and discovered the value of herbal medicine. In 2000 Matt graduated in Naturopathy from the Australian College of Natural Medicine followed by a Bachelor of Health Science (Complementary Medicine) from Charles Sturt University.
With a passion for food and organic growing methods, new business partner Marilyn Lemaire and Matt opened the dream practice - an organic health food centre that focused on clinical practice.
Both Marilyn and Matt spent almost 2 years planning and designing the current Vive retail store. In 2017, Vive is now into it's 12th year of business and has grown into a successful health food and clinical business. Vive has a well respected name for both service and professional knowledge for customers and clients.
Online Shopping - www.vivehealth.com.au was established to fully cater for our customers, a need arrived for Vive to move online and offer products for sale through the internet. As customer and client demand has grown for online trading, so too has the pressure to complete our business model by offering our customers the added value of being able to shop online.
Following the successful launch of the Vive Health online shopping site Matt has now devoted his time and knowledge back into his clinical work.

Look great and feel great...make power and speed! Matt now focuses his clinical work with those that would like help and support to reach their dreams and goals. By bringing together his 17years of experience of health and fitness, nutrition and herbal medicine, Matt's passion now lies with the concept that we CAN control the rate with which we age both physically and mentally. He has an active interest in helping people not only look great but to feel amazing from the inside out. Matt's clinical concept is about the complete wellness package where he is committed to helping people not only look fantastic and combat the processes of ageing but help individuals feel strong, motivated and full of energy. With personal exercise planning and the integration of unique nutrition and wellness concepts, Matt believes he can achieve optimal health, speed, power and wellness for his clients throughout a wide variety of sport and exercise.
Matt's areas of special interest include nutritional planning for sport and exercise performance, immune and energy systems, fatigue prevention and recover. He considers nutrition, diet and exercise prescription important components of healthy aging and prescribes accordingly with these values in mind!
To make an appointment with Matt click here
(Health fund rebates are available)