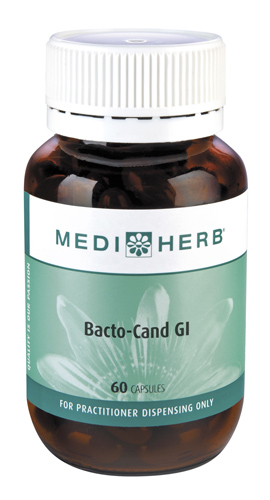 Description
Mediherb Bacto-Cand GI contains Oregano essential oil, Anise (Aniseed) essential oil, Andrographis and Pau d'Arco. This combination of essential oils and herbs is traditionally used to support healthy intestinal function and for immune support. Each enteric coated capsule is standardised to contain 10 mg of andrographolide to ensure optimal strength and quality.
Indications
Conditions requiring healthy intestinal function.
Additional Therapy
Combines well with Golden Seal tablets and Vitanox tablets to support lower gastrointestinal function.
For additional antibacterial activity consider Garlic tablets.
For additional immune support consider Echinacea Premium tablets.
Each tablet contains:
Andrographis paniculata (Andrographis) extract equivalent to dry herb
standardised to contain andrographolide 10 mg
1.0 g
Tabebuia avellanedae (Pau d'Arco) extract equivalent to dry stem bark
500 mg
Anise (Pimpinella anisum) fruit essential oil
125 mg
Oregano (Origanum vulgare) leaf essential oil
75 mg