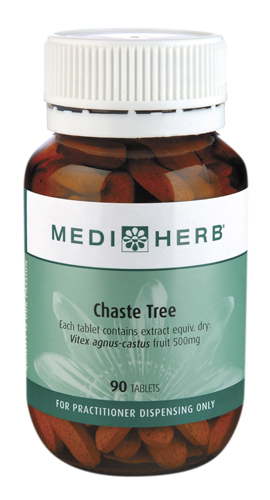 Description
Mediherb Chaste Tree helps maintain normal physiology in women. It is a herb that helps to regulate bodily cycles, including the menstrual cycle, by action on the pituitary gland.
Indications
Relief of premenstrual syndrome (PMS) characterised by breast tenderness, abdominal bloating, swelling of fingers or ankles, mild anxiety and mild irritability.
Relief of menstrual pain in conjunction with PMS.
Relief of the symptoms caused by irregularities of the menstrual cycle.
Additional Therapy
For menstrual pain combine with Cramplex tablets.
Consider PolyFem tablets for normal ovarian function, FibroFem tablets to support normal menstration and EndoFem tablets to support normal healthy endometrial tissue.
For more mature women combine with Wild Yam Complex tablets.
May be combined with Livton Complex tablets, LivCo tablets, P2-Detox powder for liver support.
Each tablet contains:
| | |
| --- | --- |
| Vitex agnus-castus (Chaste Tree) extract equivalent to dry fruit | 500 mg |