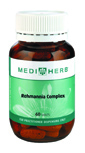 Description
The combination of herbs in Mediherb Rehmannia Complex tablets contain many compounds that provide anti-inflammatory activity. This may assist in conditoins such as arthritis, headache or migraines due to liver problems and poor immunity. It also helps to support the adrenal glands and is traditionally indicated for inflammed and itchy skin conditions.
Indications
May help reduce joint inflammation and swelling, and increase joint mobility associated with arthritis.
Helps restore healthy immune function.
Migraine or headaches especially where there is poor liver function.
Several of the herbs in this formula have been used traditionally for the relief of skin conditions such as eczema, urticaria and inflamed skin.
Additional Therapy
For further relief of the symptoms of arthritis use Boswellia Complex tablets.
Combine with Astragalus Complex tablets to build up vitality.
Vitanox tablets for antioxidant support.
Each tablet contains:
| | |
| --- | --- |
| Rehmannia glutinosa (Rehmannia) extract equivalent to dry root | 350 mg |
| Bupleurum falcatum (Bupleurum) extract equivalent to dry root | 700 mg |
| Hemidesmus indicus (Hemidesmus) extract equivalent to dry root | 500 mg |
| Tanacetum parthenium (Feverfew) extract equivalent to dry herb | 165 mg |