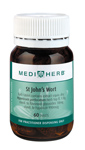 Description
Mediherb St John's Wort is a high potency tablet containing standardised St John's Wort extract. St John's Wort is recognised world wide as the most reliable herb to relieve nervous tension, stress, mild anxiety and insomnia. The active constituent, hypericin also has shown antiviral properties. This product is standardised to contain 990 mcg of hypericin and 18 mg flavonoid glycosides per tablet to ensure optimal strength and quality.
Indications
Helps relieve nervous tension and stress.
Useful to help improve symptoms of mild emotional instability including mood and irritability.
Relief of sleeplessness and insomnia.
Help relieve mild anxiety.
Additional Therapy
Combine with Echinacea Premium tablets for immune support.
Combine with Nevaton tablets or Kava tablets for additional relief of stress and nervous tension.
Mexican Valerian Complex tablets for relief of insomnia or nervous Consider
Vital Woman tablets to maintain optimum levels of vitamins and minerals during times of increased need.
Consider Rhodiola & Ginseng to improve stress adaption and promote vitality and stamina.
Each tablet contains:
| | |
| --- | --- |
| Hypericum perforatum (St John's Wort) extract equivalent to dry herb flowering top | 1.8 g |
| standardised to contain hypericin | 990 mcg |
| standardised to contain flavonoid glycosides | 18 mg |