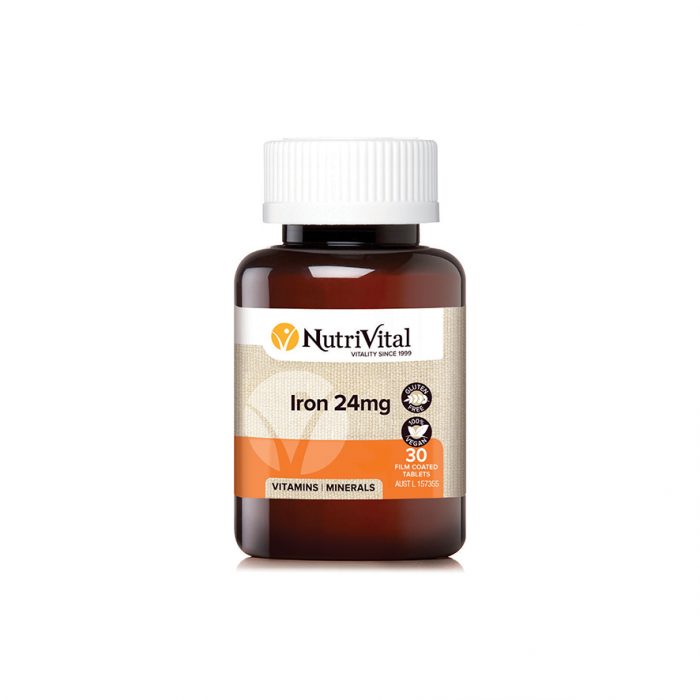 Description
NutriVital Iron 24mg contains iron along with cofactors to assist with optimal absorption.
Iron is essential for normal red blood cells and is vital in the formation of haemoglobin which transports oxygen to your cells.
Suitable for:
Suitable for vegetarians and vegans
Free from shellfish and crustaceans
Free from nuts and peanuts
Free from gluten
Free from salicylates
Free from sulphites
Free from artificial sweeteners
Free from milk and milk products
Free from sugars
Dosage:
Take one tablet daily or as directed.
Note: We advise that any customer on a prescription medication consult their healthcare professional before taking this supplement.
Ingredients:
Iron amino acid chelate……………………………………....... 120mg
equiv to iron……………………………………………………….. 24mg
Calcium ascorbate dihydrate………………………….......…… 200mg
equiv to ascorbic acid………………………………......…….165.24mg
equiv to calcium………………………………………....………. 18.8mg
Calcium citrate………………………………………..………….. 100mg
equiv to calcium……………………………………………...…. 21.1mg
Pyridoxine hydrochloride (vitamin B6)…………………...........…5mg
equiv to pyridoxine……………………………………....…….. 4.11mg
Thiamine hydrochloride (vitamin B1)………………….........……5mg
equiv to thiamine…………………………………………..….. 4.46mg
d-alpha-tocopheryl acid succinate…………………........… 41.32mg
equiv to Vitamin E………………………………………………….50IU
Nicotinamide……………………………………………..………. 10mg
Cyanocobalamin (vitamin B12)……………………….......….200mcg
Folic acid………………………………………………………..200mcg