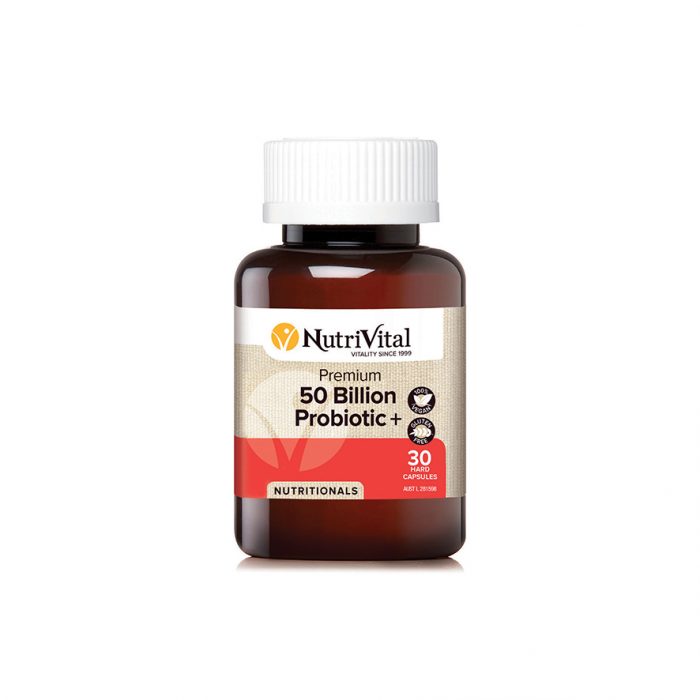 Description
NutriVital Premium 50 Billion Probiotic+ contains probiotics and prebiotics which support the health and function of the immune system.
May also support the health and function of the gastrointestinal tract, assisting with maintaining
healthy digestive flora following the use of antibiotics. May also assist with the digestion and absorption of nutrients.
Suitable for:
Suitable for vegetarians
Suitable for vegans
Free from shellfish, fish and crustaceans
Free from eggs
Free from nuts
Free from peanuts
Free from gluten
Free from salicylates
Free from sulphites
Free from artificial sweeteners
Free from artificial colours
Free from soya beans and soya products
Free from milk and milk products
Free from sugars
Dosage:
Adults take one capsule daily with food or as directed by your healthcare professional.
We recommend that probiotics be taken with food in order to optimise their effectiveness.
When taking in conjunction with antibiotics, take probiotic at least 3-4 hours away from antibiotics and continue to take the probiotic for four weeks after the antibiotic course has finished.
Ingredients:
HOWARU Bifidobacterium lactis (HN019)…… 2 billion CFU
Bifidobacterium longum (Bl-05)……………...… 2 billion CFU
Lactobacillus acidophilus (La-14)…………….. 15 billion CFU
Lactobacillus casei (Lc-11)…………………...1.25 billion CFU
Lactobacillus delbrueckii ssp
bulgaricus (Lb-87)…………………………….0.25 billion CFU
Lactobacillus paracasei (Lpc-37)…………….. 10 billion CFU
Lactobacillus plantarum (Lp-115)…………….. 15 billion CFU
Lactobacillus rhamnosus (Lr-32)…………….… 2 billion CFU
Lactobacillus salivarius ssp
salivarius (Ls-33)………………………………...25 billion CFU
Inulin……………………………………………….……..150 mg
Oligofructose…………………………………………….100 mg