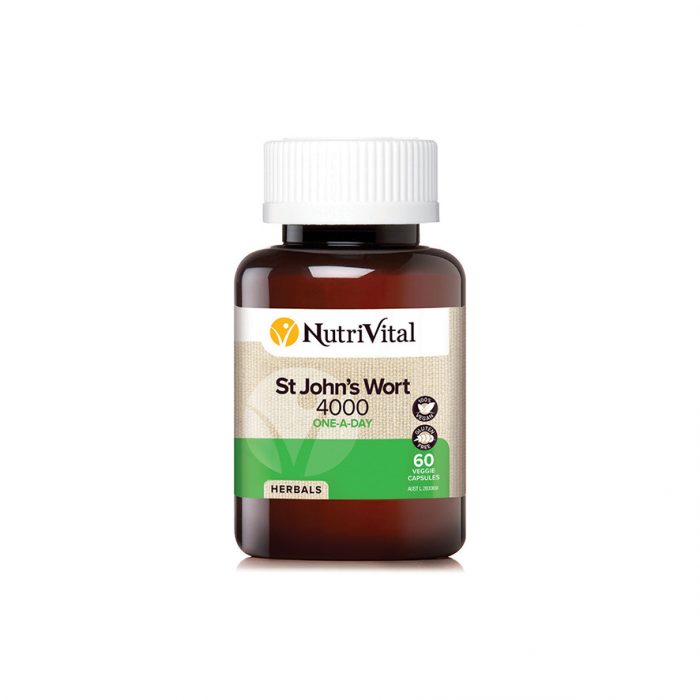 Description
NutriVital St John's Wort 4000 One-a-Day containing St John's wort a traditional herbal medicine used to promote healthy mood balance, support the nervous system and help relieve restlessness and nervousness.
Traditionally used as a sleep aid, it may also assist in the maintenance of general wellbeing.
Suitable For:
Suitable for vegetarians and vegans
Free from shellfish, fish and crustaceans
Free from yeast
Free from eggs
Free from nuts and peanuts
Free from gluten
Free from salicylates and sulphites
Free from artificial sweeteners and colours
Free from milk and milk products
Free from sugars
Dosage:
Adults take one capsule daily with food or as directed by your healthcare professional. Can be applied topically to insect bites – mix capsule contents with almond oil and apply.
Cautions: If you are pregnant or breastfeeding, seek the advice of your healthcare professional before taking this product.
Mandatory cautions: If symptoms persist consult your healthcare practitioner.
Ingredients:
Hypericum perforatum (St John's wort)
flower dry extract………………………………………….666.67mg
Derived from Hypericum perforatum
flower dry…………………………………………………4g(4,000mg)
Standardised to contain
hypericin……………………………………………………………2mg
hyperforin………………………………………………………. 20mg