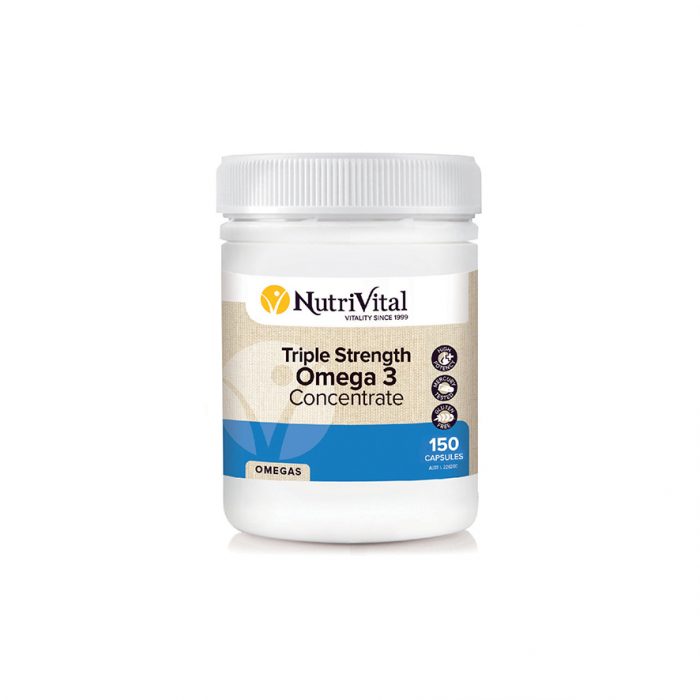 Description
NutriVital Triple Strength Omega 3 Concentrate is an odourless formula that may assist in the maintenance of normal cholesterol levels in healthy individuals. It contains omega 3 fatty acids (source – VivoMega™) which are essential for normal growth and development.
Suitable for:
Free from shellfish and crustaceans
Free from yeast
Free from eggs
Free from nuts and peanuts
Free from gluten
Free from corn
Free from salicylates
Free from artificial sweeteners and colours
Free from milk and milk products
Free from sugars
Dosage:
Take two capsules daily or as directed.
If symptoms persist consult your healthcare professional.
Vitamin supplements should not replace a balanced diet.
Ingredients:
Concentrated omega 3 triglycerides – fish oil………….1.5g
Equiv to omega 3 triglycerides………………………….. 930mg
Equiv to eicosapentaenoic acid (EPA)…………………. 540mg
Equiv to docosahexaenoic acid (DHA)………………… 360mg
Colecalciferol (vitamin D3)……………………………….6.25mcg
Nature-identical vanillin flavour and natural lemon oil.