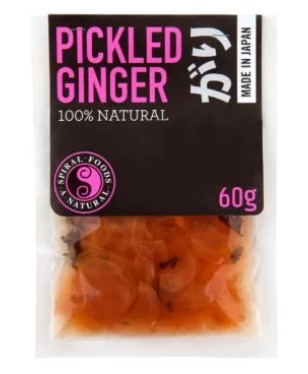 Description
Spiral Foods Pickled ginger (Sushi gari) is indispensable when serving sushi in Japan. Ginger is said to be a germicide which kills bacteria in raw fish and also cleans the palate. Our pickled ginger is a versatile condiment made from fresh ginger root which is sliced and pickled in ume plum vinegar and rice syrup, the light pink color comes from shiso leaves.
No artificial coloring is used. The sweet, tangy taste can be enjoyed at any meal.
Sliced and sprinkled on salad, use as a sushi ingredient or as it is.
Ingredients:
Salted ginger (48%) (ginger, salt, water, citric acid, acetic acid), rice syrup (rice, barley malt), rice vinegar, ume vinegar, shiso leaves, sea salt