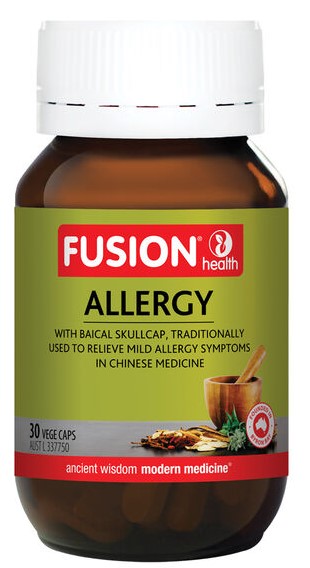 Description
Support for hayfever, dermatitis & other allergies
Need more help with allergies?
• Allergic rhinitis (hayfever)
• Eczema (dermatitis)
• Urticaria (hives)
• Immune modulation
• Healthy liver function
• Tonifies Lung Qi
• Suitable for children
Scientifically and traditionally evidenced herbs to help allergies
Allergic reactions occur when a person's immune system reacts to normally harmless substances in the environment. A substance that causes a reaction is called an allergen e.g. pollen, dust or household chemical. In these instances, the immune system is said to be hypersensitive to the specific allergen.
Allergic reactions are distinctive because of excessive activation of certain white blood cells by a type of antibody called Immunoglobulin E (IgE). This reaction involves an inflammatory response, which produces symptoms ranging from mild/moderate to more severe symptoms requiring immediate medical attention.
Fusion® Allergy may assist with mild to moderate allergic reactions associated with IgE activity. Common symptoms include sneezing, watery nasal discharge, itchy and dry eyes, nose and throat, and itchy, inflamed skin. Fusion® Allergy is based on a traditional Chinese herbal formula (Xiao Chai Hu Tang), which provides anti-allergic, anti-inflammatory and immune modulating effects. This Chinese formula was first developed during the Eastern Han Dynasty around AD 25 and today is one of the most popular Chinese medicines in the world.
Fusion® Allergy should not replace urgent medical attention or essential drug therapy.
Directions for use:
Allergy: Take 2-3 tablets 1-3 times daily.
Child 6-12 years: Take 1-2 tablets 1-3 daily.
Child 2-6 years: Take ½-1 tablet 1-3 times daily. Tablet must be crushed and mixed with syrup or honey.
For all ages, an extra dose may be taken to enhance results or as professionally advised.
Use only as directed. Always read the label. If symptoms persist, consult a healthcare practitioner. During pregnancy, always consult with a qualified healthcare practitioner before taking herbal medicines and nutritional supplements.
Ingredients:
One 2500mg tablet:
* Bupleurum falcatum 650 mg
* Pinellia ternata 450 mg
* Zingiber officinale (Ginger) 375 mg
* Panax Ginseng (Korean Ginseng) 275 mg
* Scutellaria baicalensis 275 mg
* Zizyphus jujuba 275 mg
* Glycyrrhiza uralensis (Licorice) 200 mg
Contains No artificial colours, flavours, yeast, wheat, gluten, sugar, dairy or animal products