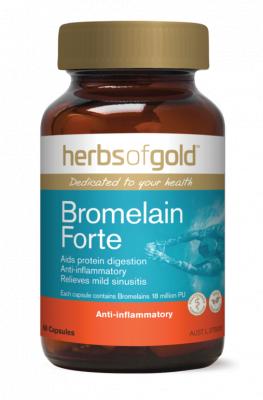 Description
Bromelain

Forte is a vegetarian friendly enzyme formula providing a high activity of

bromelain

.

Bromelain

is a proteolytic enzyme derived from pineapple.

Bromelain

aids digestion of proteins.

Bromelain

Forte may assist in the management and symptomatic relief of sinusitis.
Bromelian Forte may assist in the management of soft tissue trauma.

Bromelain

may assist in reducing pain, swelling and inflammation associated with soft tissue injury/trauma.
If symptoms persist consult your healthcare practitioner.
Ingredients:
Each capsule contains:
Bromelain

s 500mg (18 million PU)
derived from Ananas comosus (Pineapple)
Does not contain added egg, milk, peanut or animal products, yeast, gluten, lactose, artificial colourings, flavourings or preservatives.