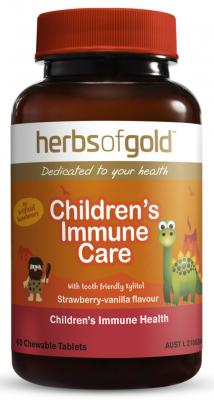 Description
Children 2-4 years – Chew 1 tablet daily.
Children 5-12 years – Chew 2 tablets daily.
Or take as directed by your healthcare practitioner.
Indications:
Children's Immune Care helps support and maintain a healthy immune system.
Children's Immune Care provides relief of the symptoms of colds and flu and may reduce the severity and duration of colds and flu.
Echinacea helps to relieve the symptoms of colds, flu and URTI's and helps maintain a healthy immune system.
Acerola provides a rich source of vitamin C.
Children's Immune Care assists in the maintenance of general wellbeing.
Ingredients:
Each tablet contains:
Echinacea purpurea (Echinacea) root and rhizome extract 33.3mg

derived from dry root and rhizome

200mg

Malpighia glabra (Acerola) fruit extract 7.5mg

derived from dry fruit

30mg

Ascorbic acid (vitamin C)

60mg

Calcium ascorbate

45mg

equiv. ascorbic acid (vitamin C) 40mg

TOTAL ASCORBIC ACID (VITAMIN C) 100mg

Citrus bioflavonoids extract

10mg

Colecalciferol

6.25 micrograms

equiv. vitamin D3 250IU

Zinc gluconate equiv. zinc

2mg

Betacarotene

1mg

Does not contain egg, milk, peanut, tree nuts, gluten, lactose or artificial colours, flavours, sweeteners or preservatives.