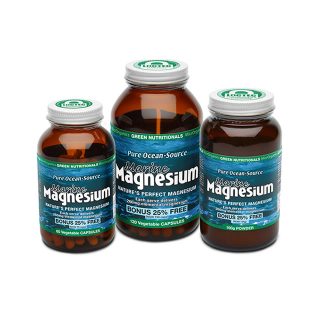 Description
MicrOrganics Green Nutritionals Pure Ocean-Source MarineMAGNESIUM is a natural form of Magnesium derived from the clean, mineral-rich seawater off the Irish Atlantic coast, with a multi-mineral matrix of 74 pure plant-source minerals and trace minerals that work synergistically to boost the absorption and bioavailabilty of Magnesium in the body.
MarineMAGNESIUM, in its natural magnesium hydroxide form, has been shown through in-vitro testing to be 78% soluble in a typical digestive system and its delivery is further enhanced by the inclusion of additional plant-source minerals. Magnesium hydroxide is soluble in stomach acid allowing absorption of elemental magnesium into the blood stream, whereas magnesium oxide must convert to magnesium hydroxide before dissolution in acid can even begin.
MarineMAGNESIUM provides the perfect balance – a Magnesium Hydroxide that possesses a high level of elemental magnesium and a 50% higher solubility than magnesium oxide in water (.009g/L vs .006g/L) that is soluble in stomach acid allowing absorption into the bloodstream.
Each serve of MarineMAGNESIUM provides 260mg of ELEMENTAL Magnesium in its natural balance of 74 trace minerals.
Ingredients:
Aquamin S (Lithothamnium calcarium) 53%, Aquamin MG (magnesium hydroxide) 45%, silica 2%, vegetarian capsule (hypromellose and water)