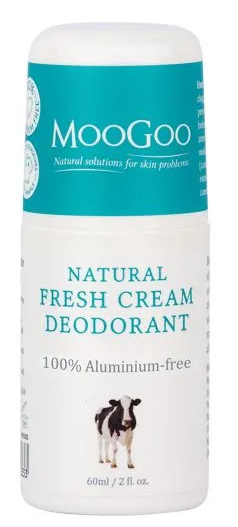 Description
Most antiperspirants work by clogging pores with Aluminium salts. Aluminium in our armpits? No thanks. We feel that aluminium belongs in our roofs, not under our arms! Moogoo Natural Fresh Cream Deodorant formula works by allowing perspiration (which is odourless) and controlling odour causing bacteria. No bacteria, no smell.
Bottled in a 60ml roll-on to make it easy to apply.
- Aluminium Free. (One day please read up on Aluminium in the body.)
- Also free from Parabens, Phenoxyethanol and all the dodgy chemicals.
- Doesn't cause rashes or ingrown hairs.
- Perfect for men and women as it has almost no scent.
- Peace of mind from living healthier is priceless.
Ingredients:
Aqua (H₂O's Fancy Name), Magnesium Hydroxide (Milk of Magnesia), Xanthan Gum (Food Grade Thickener), Piroctone Olamine (Olamine Salt), Backhousia Citiodora (Lemon Myrtle) Leaf Oil, Humulus Lupulus (Hops) Extract, Zea Mays (Corn) Starch, Hamamelis Virginiana (Witch Hazel) Extract.