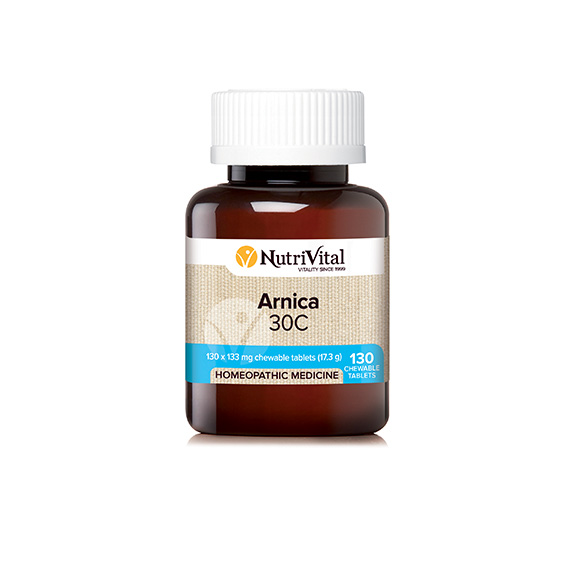 Description
NutriVital Homeopathic Arnica assists the body's natural resistance to shock, injury, fatigue and bruising and aids normal muscle recovery after strenuous exercise and exertion.
Aids normal defence mechanism in times of trauma and after surgery. Also helps the body's natural ability to cope with long distance air travel and helps restore normal sleep patterns.
Suitable For:
Suitable for Vegetarians
Free from
Shellfish and crustaceans
Nuts
Peanuts
Gluten
Corn
Salicylates
Sulphites
Artificial sweeteners
Artificial colours
Soya beans and soya products
Cane sugars
Contains naturally occurring lactose
Dosage:
Adults and children 2 years and over take 2 chewable tablets every 2-3 hours between meals until symptoms subside. After 3 days reduce dosage to 2 chewable tablets twice daily.
Chewable tablets can be placed under the tongue and allowed to be dissolved or chewed if preferred.
If symptoms persist talk to your health care professional
Ingredients:
Homeopathic Arnica 30C
Contains lactose monohydrate