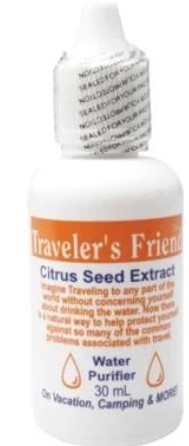 Description
Grapefruit Seed Extract Liquid Concentrate is a natural quaternary compound synthesized from the seed and pulp of grapefruit. The grapefruit bioflavonoid (polyphenolics) are converted into an extremely potent compound that has been proven highly effective in numerous applications.
Imagine traveling to any part of the world without concerning yourself about drinking the water. Now there is a natural way to help protect yourself against so many of the common problems associated with travel.
INSTRUCTIONS:
3-5 drops in a 250ml glass of water or 10 drops in a litre. Allow treated water to stand for about 10 minutes.
NOTE:
Good practice dictates that you should always use the safest drinking water available.
Never use full strength.
Ingredients:
Vegetable Glycerine (67%) And Citricidal Brand Grapefruit Seed Extract (content ranges from 55 - 61%)