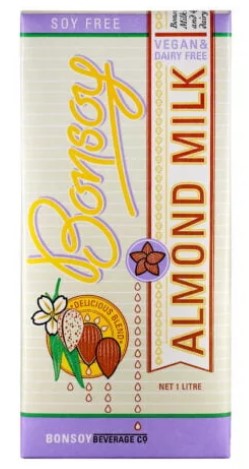 Description
Bonsoy Almond Milk is all-natural almond milk using roasted almond paste. So, you can put your mind to rest about questionable ingredients and unnatural nasties.
It holds its flavour when heated, so it's delicious in coffee. Or enjoy it in a smoothie, on your muesli, or on its own.
Nothing artificial and 100% vegan, Bonsoy almond milk doesn't just taste good, it is good.
Dairy and Lactose free
Cholesterol free
Ingredients:
Filtered water, Tapioca Syrup, Roasted Almond Paste (2.65%), Sunflower oil, Sunflower lecithin, Sea salt, Sodium Bicarbonate (Baking soda), Gellan Gum