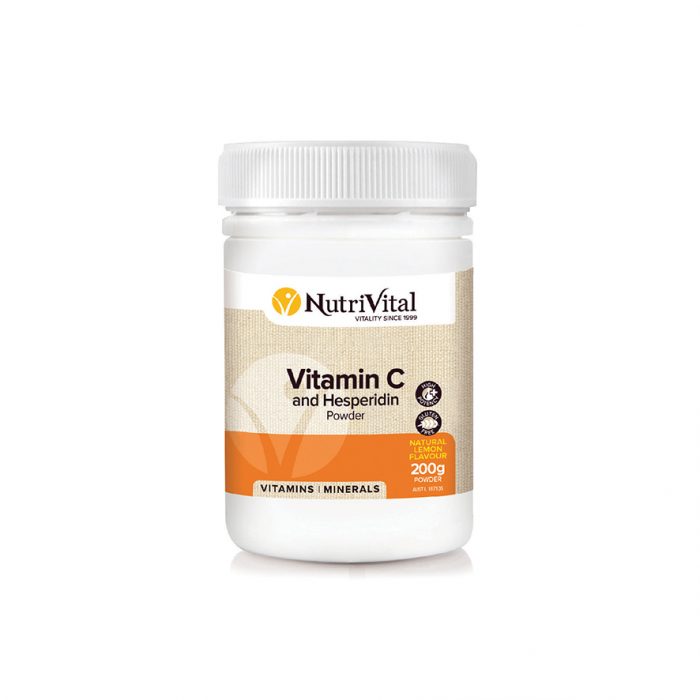 Description
NutriVital Vitamin C and Hesperidin Powder is a pleasant tasting vitamin C formula that may help reduce the severity and duration of the common cold.
Vitamin C is a potent antioxidant that supports immune health, assists wound healing and help to maintain healthy skin and gums.
Suitable for:
Suitable for vegetarians and vegans
Free from shellfish, fish and crustaceans
Free from eggs
Free from yeast
Free from nuts and peanuts
Free from gluten
Free from salicylates
Free from artificial sweeteners and colours
Free from soya beans and soya products
Free from milk and milk products
Free from sugars
Dosage:
Adults: 2 grams (2 level scoops – using scoop provided) once daily or as directed.
Children: 2 years and older – not more than 1 gram (1 level scoop) once daily or as directed.
Not to be used in children under 2 years of age without medical advice.
If symptoms persist consult your healthcare professional.
The powder provides a refreshing lemon-flavoured beverage when dissolved in a glass of water. Stir well and drink promptly for best results.
Ingredients:
Ascorbic acid (vitamin C)…………………………………… 800mg
Calcium ascorbate………………………………………….242.07mg
Equiv to ascorbic acid (vitamin C)………………………. 200mg
Equiv to calcium……………………………………………….. 22.8mg
Hesperidin………………………………………………………… 200mg
TOTAL VITAMIN C per 2 grams……………………1000mg (1g)
Natural lemon flavour. Sweetened naturally with xylitol and stevia.