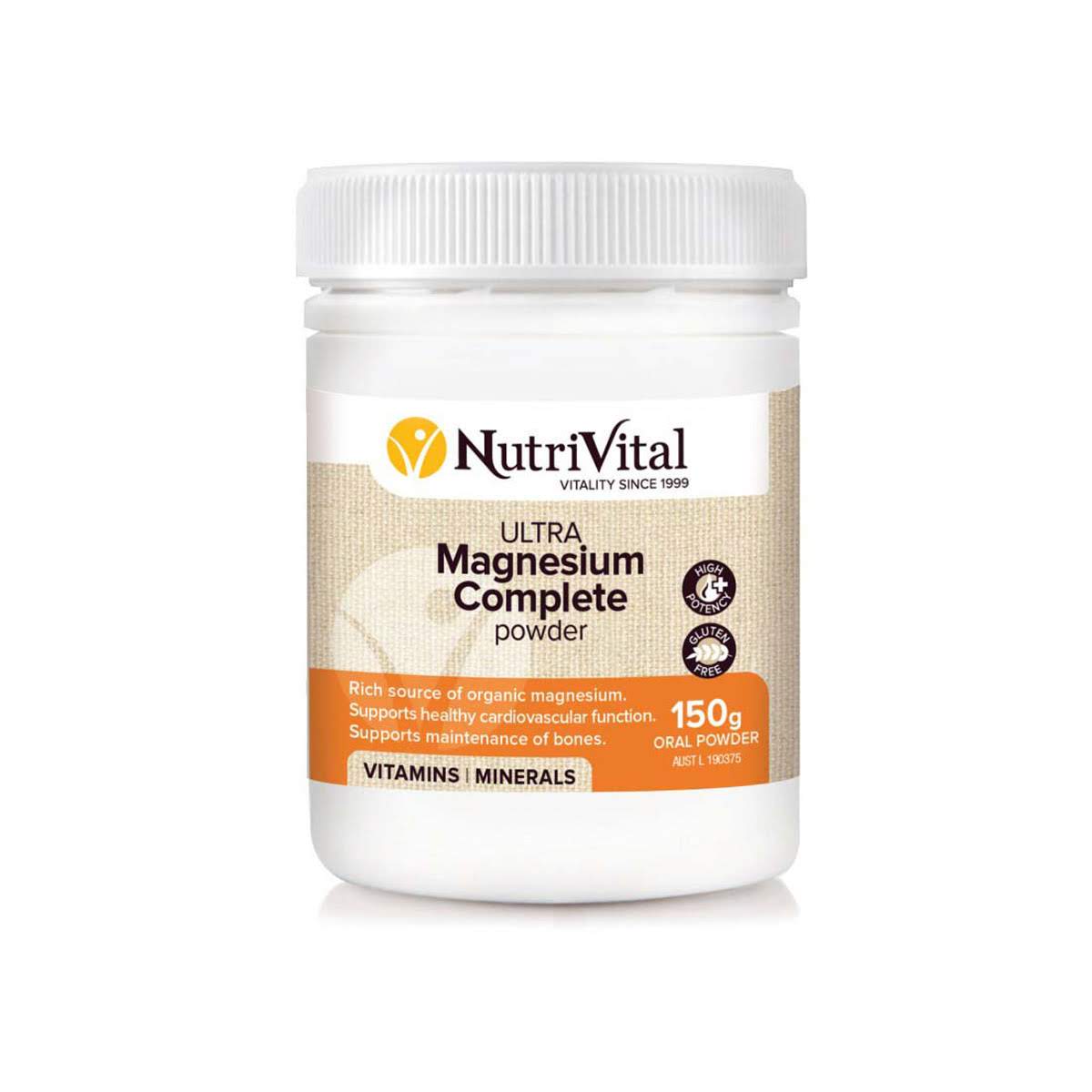 Description
NutriVital Ultra Magnesium Complete Powder a rich source of magnesium important for healthy bone strength. May help maintain healthy cardiovascular function and help regulate the normal healthy contraction of the heart muscle.
Magnesium may also assist in the management of premenstrual syndrome.
Suitable for:
Free from shellfish, fish and crustaceans
Free from eggs
Free from nuts and peanuts
Free from gluten
Free from salicylates and sulphites
Free from artificial sweeteners
Free from soya beans and soya products
Free from milk and milk products
Dosage:
For adults mix one scoop (provided) of powder into 200ml of either juice or water daily. Stir well and drink promptly for best results.
The powder provides a refreshing lemon and lime flavour when mixed with water.
Note: Due to the large number of active ingredients in this product, we recommend customers consult their healthcare professional if they take any prescription medication.
This product contains pyridoxine hydrochloride, which may be dangerous when used in large amounts or for a long time.
This product contains selenium which is toxic in high doses. A daily dose of 150mcg for adults of selenium from dietary supplements should not be exceeded.
Vitamin supplements should not replace a balanced diet.
Ingredients:
Magnesium citrate……………………………………………2166mg
equiv magnesium……………………………………………… 350mg
Magnesium ascorbate monohydrate……………………. 90mg
equiv ascorbic acid…………………………………………… 80.8mg
equiv magnesium………………………………………………. 5.6mg
Total magnesium……………………………………………. 355.5mg
Potassium ascorbate dihydrate…………………………. 37.5mg
equiv ascorbic acid…………………………………………… 26.4mg
equiv potassium………………………………………………… 5.9mg
Calcium ascorbate dihydrate…………………………… 112.5mg
equiv ascorbic acid……………………………………………… 93mg
equiv calcium…………………………………………………… 10.6mg
Zinc ascorbate monohydrate……………………………….. 45mg
equiv zinc………………………………………………………….. 6.8mg
equiv ascorbic acid…………………………………………… 36.2mg
Selenomethionine………………………………………… 242.1mcg
equiv selenium………………………………………………..97.5mcg
Nicotinamide………………………………………………………. 30mg
Pyridoxine hydrochloride…………………………………….. 75mg
equiv pyridoxine (vitamin B6)………………………….. 61.7mg
Folic acid…………………………………………………………..225mcg
Inulin………………………………………………………………… 420mg
Ascorbic acid (vitamin C)…………………………………… 195mg
Total ascorbic acid…………………………………………… 431.4mg
Taurine……………………………………………………………… 750mg
Chromium nicotinate…………………………………………..75mcg
equiv chromium…………………………………………………..9mcg
Glutamine…………………………………………………………. 750mg
Thiamine nitrate……………………………………………….. 45.6mg